brett goldberg sherwood
wealth management
Sapwi Bike park General information
The Sapwi Bike Park is the Conejo Valley's first (and still only) bike skills park, located inside the Sapwi Trails Community Park in Thousand Oaks, California.
The park has been a labor of love, brought to reality by a small group of volunteer board members with planning beginning all the way back in 2013. Additionally, the park would not be possible without the generous donations and sponsorship from the local community.
The Sapwi Bike Park project is a partnership between the Concerned Off-Road Bicyclists Association (CORBA) and Conejo Recreation And Parks District (CRPD). The park is a free, public recreational bicycle skills park facility located in the heart of beautiful Sapwi Trails Community Park in Thousand Oaks, California. The Community Park also features several miles of multi-use trails, natural habitat preservation, and other activities such as disc golf, cross-country running, and a non-motorized glider flying area.
CORBA, a 501c3 nonprofit, is a chapter of the International Mountain Bicycling Association (IMBA). CORBA has entered into an agreement with (CRPD) to construct and maintain Sapwi Trails Bike Park and the multi-use trails and skills stations within Sapwi Trails Community Park.
The bike park offers a wide range of features to challenge all ages and skill levels. The Sapwi Bike park currently consists of a pump track and three jump lines:
PUMP TRACK– Our pump track was designed for endless laps with multiple options. This is a track made for all ages and ability levels.
BEGINNER– Consisting of  mellow berms, small rollers and two dirt table top jops, This line is not intended for the rider to leave the ground.
INTERMEDIATE-This more technical with wood ramp jumps, berms, and dirt jumps. Riders can choose if they want to leave the ground on this line.
ADVANCED-This line is for experienced riders comfortable leaving the ground. This run has 5 wood ramp jumps that are not connected to the landing.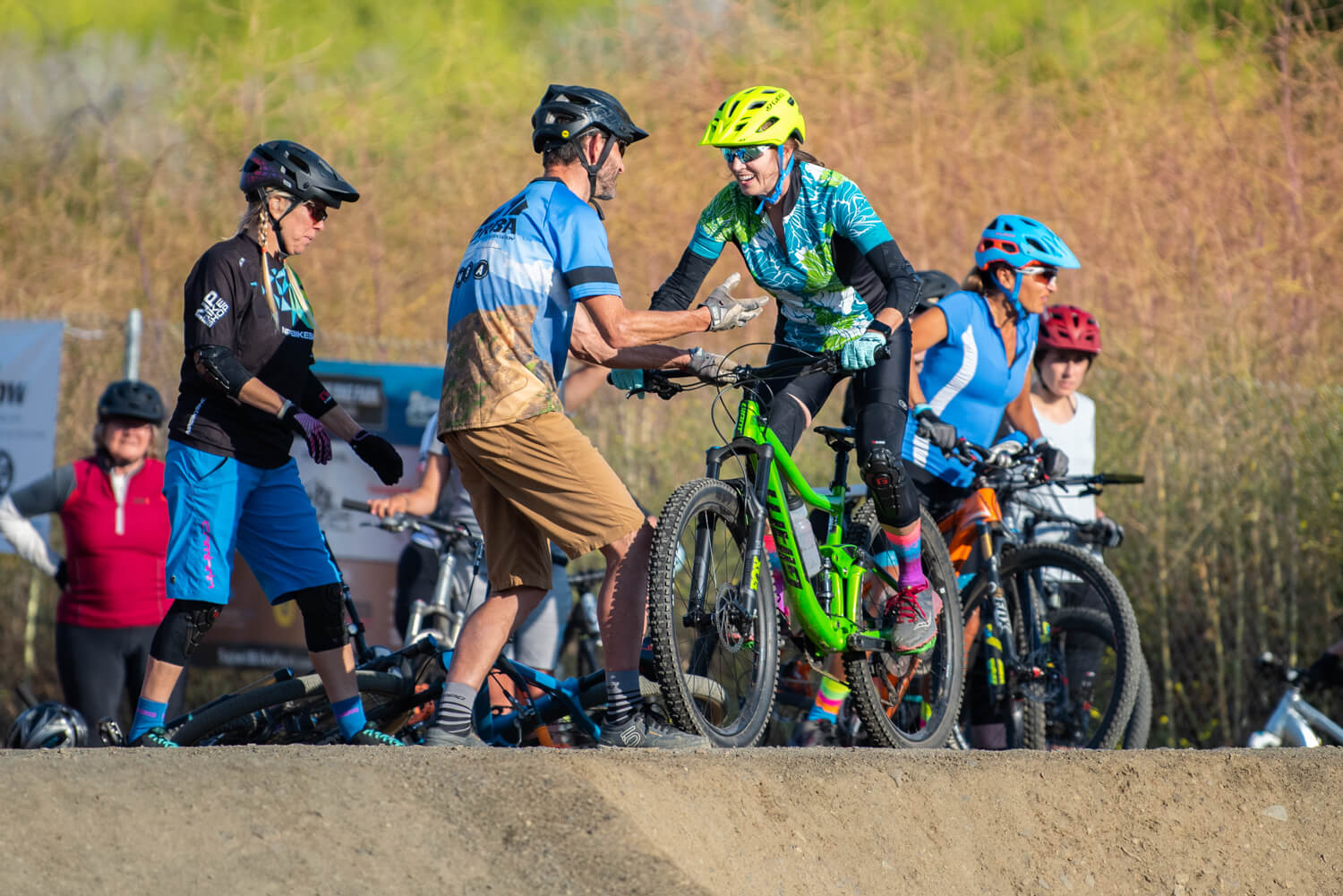 Become a Sapwi bike park sponsor
Sapwi Bike Park has been made possible by public donation, sponsorships, and grants.  Unlike many other public parks, we do not receive a budget from a city or other municipality to function.
Sponsorship allows you to be a vital part of this very popular bike park, but more importantly, it allows you to be a part of the quickly growing biking community in Thousand Oaks, California, as well.
Since its opening in 2018, Sapwi Bike Park has become one of the best and most popular bike parks in Southern California.
If you are interested in learning more about the benefits of becoming a sponsor and to see the different levels of sponsorship, please click the link below.
DONATE TO HELP US EXPAND AND MAINTAIN THE PARK
Help us grow and maintain The Sapwi Bike Park by making a donation through our GoFund Me Page or sending a donation directly.
Donations for the park go directly into the maintenance and the expansion of the park.
We are currently in the process of fundraising to build our Expert Jump Line.  We are presently in the planning phase, but once we reach certain fundraising goals, we can announce a timeline and begin the building process. We are expecting to purchase 7 more additional expert level ramps and will be hiring the same construction crew that build the current jump lines.
Donation checks can be sent to:
26500 W. Agoura Road, Ste 102-552
Calabasas CA 91302.
Please make the check out to CORBA and write "Sapwi Bike Park" in the memo sction of your check.
If you would like to make a donation with credit card  through GoFundme, please click the link below.
SPONSORSHIP OPPORTUNITIES
CONEJO RECREATION AND PARK DISTRICT
We can be reached through our Instagram and Facebook pages, as well.
Click here for information on Sapwi Trails Community park.
For general inquiries, please send us a message using the form below.  We will get back to you as soon as possible.